Camperplaats Heusden
The most beautiful camper place in North Brabant and perhaps the Netherlands.
Motorhome pitch Heusden
Because of our unique location, one of the most beautiful motorhome pitches in North Brabant – possibly in all of the Netherlands. Right next to the marina, just a few hundred metres away from sister restaurant BOEI35. Enjoy the beautiful view of the Bergse Maas, and wander through the picturesque streets of our fortified city. Ideal for lovers of art, culture and heritage who want to explore North Brabant with their mobile place to sleep.
Unique location on the water
Immerse yourself in (cultural) history
Good base for exploring the beautiful surroundings
Safe and secure
Can be combined with all that Heusden has to offer
Our 25 lush motorhome pitches are spacious (120 m²) and offer all amenities for the necessary care of your motorhome. We have a sanistation (for emptying your grey water and chemical toilet; drinking water supply), 24-hour camera surveillance, a 230V/16A power supply, two toilet blocks and even a jeu de boules (lawn bowling) area.
You can check in as well as extend or alter your stay via the Aanuit.net app.
Sanistation (tank/chemisch toilet)
24 hour camera surveillance

Bus stop within walking distance
Selfservice checkin /checkout (24/7)
Wake up to a view of the water – or the historic, charming town. Anything is possible. Because of our unique location, we receive many compliments – especially from 'experienced' motorhome owners. Some even feel we are one of the most beautiful places they have ever been. And that gives us great pride!
Surrounding area
Go on a city walk to learn all about the rich history as well as the prize-winning restoration of Heusden's impressive fortifications. After a tour with a (multilingual) guide, set off on your own through the narrow alleyways and over the impressive city walls that offer an amazing view. Or get into a boat and see how beautiful it all looks from the water. Of course, it is impossible for nature lovers to not visit the Loon and Drunen Dunes. Visit the charming shops in Heusden, even though Tilburg and 's-Hertogenbosch are just a short drive away. Something totally different: the Efteling amusement park is not only famous because of its exciting rollercoasters but also because of the wonderful images created by Rien Poortvliet.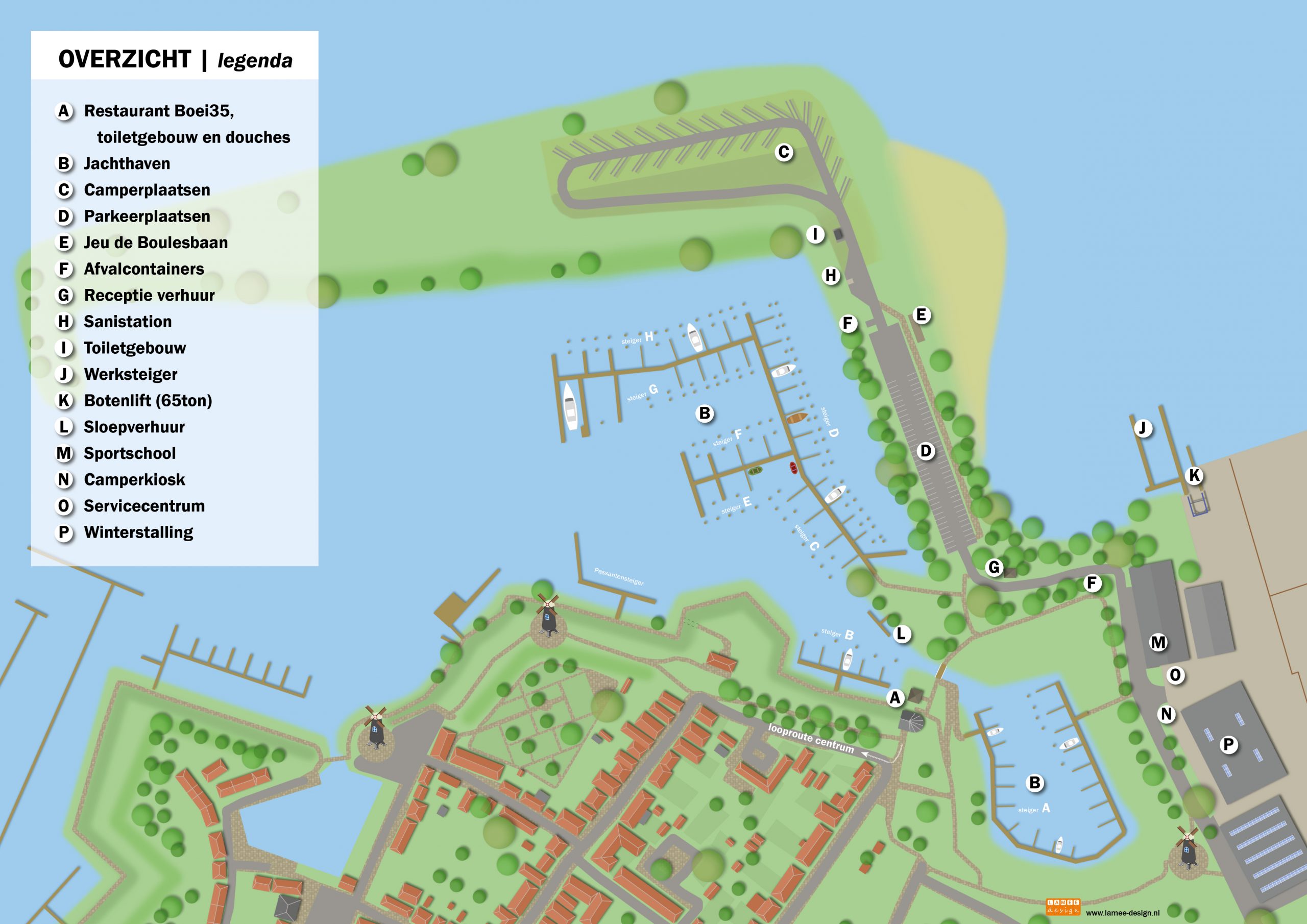 Reserveren
You can book via the AanUit.net app or via the website www.aanuit.net
Please note: you cannot enter the grounds until 13:00 if you have made a reservation. Are you earlier? Then call us and we can see if there is already a spot available.
Check-out is at 13:00 at the latest. (Please note that you have driven off the site for this, otherwise you will not be able to drive out)
Would you like to stay an extra night? Additional bookings can be made easily in the Camper Kiosk or the app, based on availability.
| | | |
| --- | --- | --- |
| Periode | Seizoen | Tarief per overnachting |
| 1 jan – 30 jun | Laag | € 19,- |
| 1 jul – 30 sept | Hoog | € 20,- |
| 1 okt – 31 dec | Laag | € 19,- |
Fixed check-out time at 12:00 p.m.
The above rates include: tap water, hot showers, WiFi, sani station
Use of electricity € 0.85 KWH excluding
Tourist tax: € 1.10 per person per night
Low season is with the exception of holidays and/or public holidays.
Schrijf je in voor onze nieuwsbrief